Police chief: crime down in Lynchburg – Lynchburg News and Advance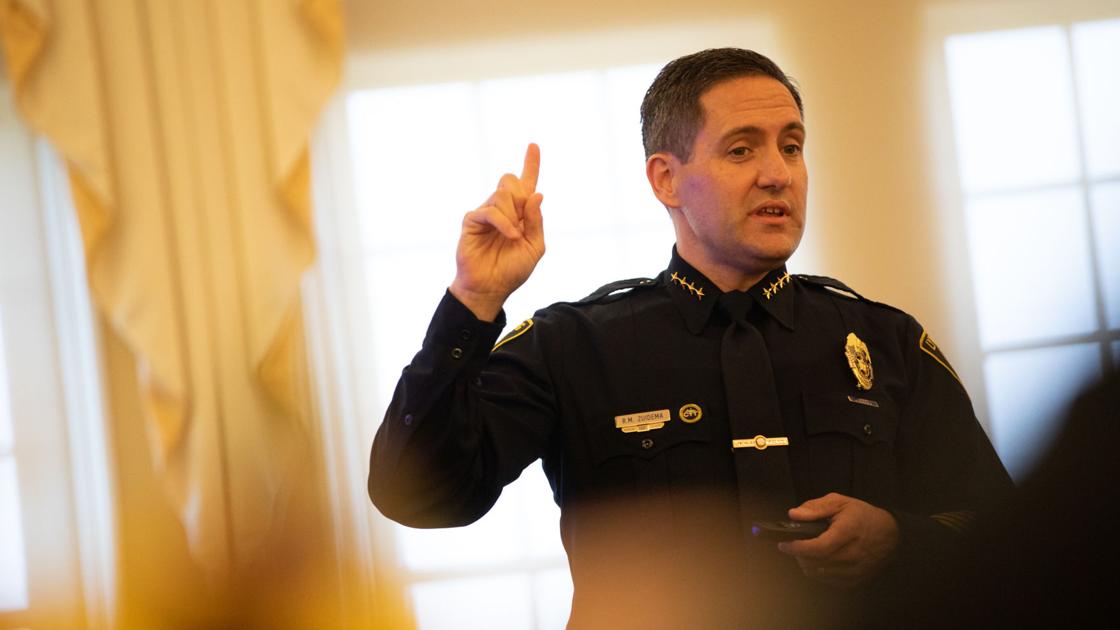 Crime is down in the Hill City.
That's according to Lynchburg Police Chief Ryan Zuidema, who heralded the news Wednesday at a meeting with local business owners.
Total crime is down 14%. Recent police records show 10,357 criminal offenses were reported over the last 12 months, down from 12,064 offenses from a year earlier.
Zuidema pointed to a recent flurry of community policing initiatives as the largest driver behind the decrease. He thanked the business community for their help with several outreach efforts.
"This is truly the results of the engagement that we do with the community. I don't have any question about that," he said at the Lynchburg Regional Business Alliance's quarterly Business at Breakfast meeting, which was held at The Summit in Wyndhurst.
The figures were detailed in a 14-page crime analysis report provided Tuesday to The News & Advance. The report, compiled each month by police, highlights key crime trends throughout the city.
Violent crime, which includes murder, robbery, sexual assault and aggravated assault, dipped to 284 offenses — a 2% drop from the 291 offenses reported a year earlier.
The slight decrease in violent crime is largely due to a 43% drop in homicides, from 7 to 4, and a 16% drop in sexual assault offenses, from 104 to 87. Robbery and aggravated assaults are both up 13% and 6%, respectively.
Property crime, which includes burglary, larceny and vehicle theft, dropped 13% from a year earlier. The total number of burglaries and larcenies also fell, but vehicle thefts are up 18% from 148 incidents to 174.
Drug crime is down 6% and driving under the influence offenses are down 24%. Police also have responded to fewer shootings over the last 12 months. Shots fired calls have declined 8%.
The recent decrease in reported crime continues a more than decade-long trend in Lynchburg, according to annual data compiled by the Virginia State Police. Crime dropped by more than 30 percent, from 7,091 serious offenses in 2008 to 5,417 in 2017. Data from 2018 is expected to be released in the coming weeks.
Zuidema said the department's shift toward a data-first approach in recent years has allowed the force to zero in on criminal "hot spots" and repeat offenders, making their enforcement efforts more efficient.
"We take all this data, we put it together, and we try and provide our officers with a roadmap …" he said. "We look at high areas of crime, whatever those reasons may be, we go in and we try and figure out the why."
The department relied on that approach last summer when it activated a specially trained 6-officer unit to patrol "hot spots." The team, known as the Special Investigations Response Team, or SIRT, largely patrolled at night in unmarked vehicles.
The department has not decided if SIRT will entirely return this summer. The command staff is now weighing budgetary priorities and Zuidema has said an officer shortage may make reducing the team's role a necessity.
Data-led policing, Zuidema said, has been most successful when paired with community policing. He identified the free officer-led sports leagues and a joint initiative with city faith leaders to hold cookouts throughout the summer as examples of successful outreach programs.
He also touted the recently relaunched Lynchburg Police Foundation and asked attendees to donate to the nonprofit. The foundation helps fund police equipment, training and a planned banquet through donations and grants.
Christine Kennedy, chief operating office and executive vice president of the Lynchburg Regional Business Alliance, praised Zuidema and the department for their leadership in the community. She highlighted the Community Policing Advisory Group — a bimonthly meeting of citizens who discuss police matters with top officials. The meetings, which are closed to the press, are often attended by Zuidema.
"To have a thriving community you have to have collaboration, and law enforcement is a key pillar in our community," Kennedy said.
Richard Chumney covers breaking news and public safety for The News & Advance. Reach him at (434) 385-5547.